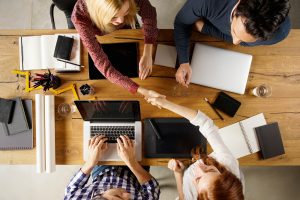 Yet another industry giant has stumbled, as Avaya filed for Chapter 11 bankruptcy last month. Although many of us saw this one coming from a long way off, it represents yet another in a wave of mergers, acquisitions and financial missteps as the telecom industry struggles to transition from premise-based hardware to hosted cloud voice systems.
The Fall of VC-Backed Telecoms
I've seen a lot of venture capital and investment money go into cloud voice system providers. Many of them continue running on VC funding and aren't making a profit – they're instead building a business with the goal of selling it to another company.  And this pattern isn't limited to phone equipment manufacturers; it's a consistent pattern across the industry including carriers as well.
One of the earliest examples of this trend was Whaleback, a cloud solution that built up a large customer base before running out of money and being sold. The customers I've spoken to are experiencing a completely different model now that Whaleback has been swallowed up by another provider, and seem to be dissatisfied with the service they're receiving.
We've seen similar stories with Windstream's purchase of Earthlink, Verizon's buyout of XO Communications, and others.
What's the Impact for Customers?
I've been asking for a while now: when companies focus primarily on gaining customers and subscribers, but don't care about whether they're making a profit, what eventually happens to their customers?
Mergers and acquisitions are financial decisions. They are typically in the best interest of the stockholders, with little regard for the needs of the customers. While many companies that undergo an M&A transaction or wade through chapter 11 bankruptcy will emerge, there are often extensive changes for the customer and long-term impact on research and development and the company's ability to maintain competitive innovation.
While VCs expect this level of risk when they invest in a company, customers cannot. Every change of management and direction creates problems for the customer, and unfortunately the customers come out on the losing end.
How Can Companies Prevent the Upheaval that Telecom M&A Activity Creates?
While many people's instincts may be to establish a direct relationship with their telecom provider, this is a situation for which an intermediary can be valuable and important. At Barry, we carefully vet and select the providers we choose to work with. We also personally oversee our customers' experiences, and if changes do occur with any of our providers, we take on the role of navigating those changes and minimizing the impact for our customers. We have the ability to prevent major disruptions, and deliver more personalized services than any of the major providers.
So whether your company is an uncertain Avaya customer looking to investigate your cloud voice system options, or simply looking to explore the industry for a new or better phone system, let's talk. I'd love to tell you about how Barry Communications works for our customers, introduce you to some of our customers, and explain how we can help you make a confident decision for the long term.
Save
Save