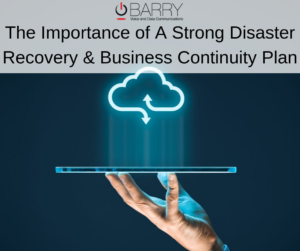 It's that time of year again – hurricane season. And not too far into the distant future is blizzard season. Weather, particularly in New England, can be unpredictable – a sunshine filled morning can lead to flooding or three feet of snow by the evening. For this reason, among many others, having a strong disaster recovery and business continuity plan in place is crucial for any business. After all, if you can't predict the weather you also can't predict the impact it will have on you, your business, or your customers. Your organization needs to be proactively ready for anything – not just reacting to disastrous conditions. 
Many organizations put a lot of time and resources into making sure they have strong disaster recovery and business continuity plans in place for their main IT systems and data storage but a well thought out plan will also include a robust plan for communication tools as well. We're currently in an age where nearly everyone has access to a cell phone, but you can't assume that business will be able to fully resume just by having employees use their personal phones to conduct business.
When it comes to creating a strong disaster recovery and business continuity plan it's important to look at them both together and separately. After all, they serve different purposes and may come into play separately but there are times when they may have to be enacted at the same time. 
Disaster Recovery
A strong disaster recovery plan will do exactly what it sounds like – it will protect your business in the event of a disaster and allow your organization to recover. Typically this includes the mechanisms that are put into place to ensure there are off-site backups of your data. It's also the mechanisms that allow an organization to be back up and running at capacity as quickly as possible. When it comes to your communication tools, this means having a system in place that won't be permanently impacted by a disaster such as a flood or fire.

Business Continuity
A more likely scenario is that your entire building isn't going to be destroyed but, for whatever reason, it could be inaccessible. Perhaps a severe snowstorm has made it safer for your team to work from home, or a power outage has affected your building. This is where a Business Continuity plan will come into play. With a strong business continuity plan in place, you can keep the minimum required operations going so that your business doesn't suffer a huge monetary loss. Depending on the strength and depth of your plan you could potentially have all of your employees working remotely and your customers wouldn't recognize a difference. 
For many organizations, disaster recovery and business continuity planning stops at their data. They work hard to make sure that their team can access critical files remotely and to ensure there are sufficient backups of all data, but they don't drill deep into communication. They assume that employees will be able to use their mobile phones to conduct work, but forget that things like voicemail, the right contact list, and – of course – security, are crucial to getting the job done. (And, depending on the line of work, it may not be reasonable to ask every employee to give out their personal cell phone number!) 
Many organizations have implemented VoIP systems as an upgrade from traditional telephone lines, but a well-built and maintained VoIP system can become a critical part of a sound disaster recovery and business continuity plan. A VoIP system that is on-premise and hardware based would be completely down during a disaster and could need to be completely replaced (if the hardware itself is destroyed) and reconfigured. However, a cloud-based system, or a system with cloud features, would be accessible from an off-site location so that users could be reconnected and operations could resume.

Are you ready to learn more about protecting your business in the event of a disaster or access-limiting event? Contact us today!