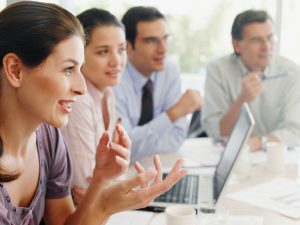 Technology is only as good as the people who use it. Meaning that all the functionality in the world doesn't matter much if the users don't know about it, or don't understand how to make it work as part of their daily life. User training is a critical part of any business voice and data system – and it isn't just a one-and-done process. It should be tailored to the individual business, and to different internal user groups.
I recently saw an interesting infographic on an eLearning site that said among 4,300 employees surveyed, 74 percent felt that they weren't achieving their full potential at work. While that likely reflects on more than technology training, having the right tools – and knowing how to use them – are integral to doing any job well.
Training is All the Same. Right?
With comprehensive systems like ShoreTel, there are different features and capabilities that relate to different job functions. Making sure that each employee understands how to use the functions that will best support their job is critical to a company seeing the desired ROI on their investment. For example, a company CEO will use a Shoretel system differently than his administrative assistant, and a call center professional will use it differently than a remote worker.
The same infographic that I mentioned above also said that "Only 38% of managers believe that their company's training programs do a good job of meeting the learners' needs."
Training that is tailored to specific user groups not only support individuals' abilities to do their job effectively and efficiently, it also helps employees feel more supported and engaged in their work.  While specific user groups will be different for every company, some of the most common groups that benefit from tailored ShoreTel training include:
Call Center Staff and Supervisors
These users rely on advanced functionality to do their daily jobs. Their training may include how to:
Log in and out of groups
Accept calls, and what to do with them
Set an alarm, and what it means
Respond if a call goes on too long
Get help from supervisor
Record a call
Conduct a wrap-up
Use release codes
Classify a call
Produce call reporting
Manage call center staffing levels
Operators
These users also rely on the system to do their daily jobs, also the functionality is more basic than in a call center. Operators will need to know how to:
Answer calls
Park calls
Transfer calls
Queue calls
Monitor user availability
Executive Administrator
To best support the executive leadership, admins will need to know how to use the functions that will support their roles as gatekeeper and schedule administrator. This usually includes:
call screening
setting up conference calls
creating call flow
Multiple Shifts
Training for staff that operate in multiple shifts will need to be tailored to their operational needs, as well as their scheduling. Training for these groups should be flexible, and may be conducted in a combination of business hours and off-hours.
Mobile and Remote Users
Companies that have a number of mobile and/or remote employees may consider training these groups specifically on the tools that support their work styles, including:
Using the mobile app
How to access the system and work remotely
How to interface with their customers' network
Additional training may be tailored for power users – those people who employ the system to its maximum potential and can be relied on to encourage and enable greater use among other employees across the organization – as well as those employees who frequent use the conferencing tools.
Barry Communications' Approach to Training
We believe in the importance of providing the right kind of training support for every customer. All of our ShoreTel proposals include a line item that provides for "Classroom and/or video end user training, first day live coverage and system admin training." What exactly does that mean? It means we provide as much training as each client needs, which often includes:
45-minute on-site user training classes for groups of ten people or fewer
Self-paced training videos
On-site support for the day the new technology goes live
Administrator training to enable staff to make changes in the system going forward
Right now, we are conducting update training for all ShoreTel customers as they transition to the new Connect system – and our training is the same for both premise and cloud implementations.
Learn more about ShoreTel's new Connect platform, or contact us to discuss custom training for your company's different user groups.
Save
http://www.barrycommunications.com/wp-content/uploads/2014/09/logo.png
0
0
Precision Marketing
http://www.barrycommunications.com/wp-content/uploads/2014/09/logo.png
Precision Marketing
2016-11-16 08:22:24
2016-11-02 16:23:49
Training to Fit the User: Get More ROI from Your Business Voice and Data System By Tailoring the Training Program