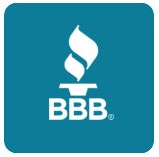 Business Size: 125
Industry: Associations
Situation:
The Eastern Massachusetts Better Business Bureau office maintains files on businesses in Eastern Massachusetts, Maine, Rhode Island and Vermont areas, dealing with hundreds of calls to and from consumers and businesses concerned about ensuring an ethical marketplace.
Being a nonprofit public service organization, the BBB is under close scrutiny to keep costs down while providing exemplary customer service.
Its existing phone system was becoming increasingly expensive to maintain; and, with offices in three locations and remote employees, the BBB was not able to consolidate all users onto one, feature-rich, easy-to-manage system.
Upgrading the old system was not feasible because both short- and long-term costs proved to be too exorbitant.
Barry Communications showed us how to reduce our communication expenses from approximately $10,000 per month to $5,600 per month with their IPConnect Managed Services and the ShoreTel system.

Deanna Liberti
V.P. of Operations, Eastern Massachusetts
Key Challenges:
Needed to integrate communications between their offices and build a communications backbone to support its growing number of remote workers.
This backbone also needed to support the BBB's two call centers — one for receiving and dealing with consumer complaints and inquiries about the reliability and ratings of businesses; and, the other to support an outbound team making 100 calls a day inviting business to apply for BBB Accreditation
Needed a distributed architecture that could provide high availability and mission-critical reliability
IT department resources were already strained. The transition to a new system needed to be smooth. Moving forward, managing the system as the organization changed and grew needed to be easy.
Finally, needed to reduce monthly communication costs
Solution:
Main Office: Two ShoreGear 50 voice switches and one ShoreGear 90 voice switch
Remote Sites: a ShoreGear 50 voice switch at each site
Co-location Site: Two ShoreGear T1K voice switches; ShoreTel Application Server; and a ShoreTel VPN Concentrator
ShorePhone IP Telephones, including ShorePhone IP 230 g models with gigabit Ethernet and ShorePhone IP 230 models
Barry IPConnect Managed Services
Results/Benefits:
Previous office moves resulted in communication system downtime, which cost BBB revenues. During the entire Barry/ShoreTel deployment, BBB did not experience any downtime.
Barry Communications delivered a highly available phone system with a co-location facility that ensures that BBB's inbound and outbound calls continue to get through, even in the event of a disaster.
Helped more effectively manage customer contact center and increase productivity gains of individual agents by providing in-depth phone usage reports
Reduced monthly communications expenses from $10,000 to $5,600. A significant part of savings was achieved through ShoreTel's least-cost routing feature, enabling interoffice and remote worker VPN calls to be routed as local calls instead of long distance calls.