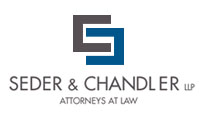 Business Size: 50
Industry: Professional
Situation:
Worcester, Mass.-headquartered law firm specializing in business law, bankruptcy, commercial banking, employment, taxation, probate and family law, trusts, estate planning and real estate
Satellite office 15 miles east in Westborough, Mass.
Began looking to upgrade existing Nortel system because there were issues with poor sound quality, especially when using speaker phones
Barry Communications' solution allowed us to lock into a fixed monthly cost, so there's no more guessing month to month about our phone bill.

J. Robert Seder
Senior Partner
Key Challenges:
Needed to enable lawyers to work at main office and satellite office seamlessly
Needed to allow law firm administrators to monitor the status of every line in the system and be able to dispatch calls efficiently by answering, transferring, parking or send to voice mail
Needed to let lawyers and firm administrators easily view personal call history for billing purposes
Needed to reduce monthly communication costs
Solution:
Allworx 24x System
Worcester main office: Allworx 9112 phones in Worcester
Westborough satellite office: Allworx 9112 phones and 9102 phones
Bandwidth.com SIP Trunking for outbound calls direct inward dialing (DID)
Barry IPConnect Managed Services
Results/Benefits:
Sound quality improved substantially.
The satellite offices enjoy all the benefits of being in the main headquarters.
Law firm administration has become more efficient in regards to billing because the new phone system easily reports time and length of calls.
Monthly communications costs have decreased in the neighborhood of 3 to 4 percent.