When Small Businesses Struggle to Get Good Service from Big Voice and Data Network Providers, They Need an Advocate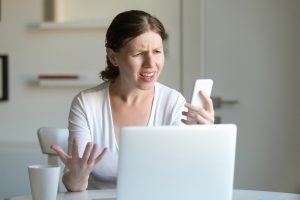 Have you ever had the experience of working with a salesperson and, once the purchase order was signed, you never heard from them again? Your account was moved over to someone else in account management, who may not even have a conversation with your salesperson. All of the background information, conversations about customization, and concerns you had throughout the sales process – do you really need to repeat all of that with an entirely new person?
Unfortunately, many big companies simply aren't structured to care for customers from start to finish. Each department or role focused on their specific tasks, which makes it incredibly difficult to deliver great customer service. That's not a reason avoid the big guys – because there are a lot of benefits they can offer. For example, the large cable companies have built out great enterprise fiber infrastructure and have a strong implementation team, but they typically don't do well with ongoing support – they're simply too big.
This can be incredibly frustrating for small business customers, which typically don't have enough staff or the right knowledge and background to easily manage their utilities.
The Secret to Better Customer Service? Get an Advocate.
Businesses can partner with an advocate to get help managing their utility providers. The benefit of this kind of relationship is that advocates like Barry Communications have deep technical expertise, so they can ensure highly efficient and tailored implementation to meet your specific needs. They are also able to leverage their knowledge to get customer service staff to address issues faster, more directly, and in a more complete manner. Basically, they know how to squeeze the absolute best service out of a machine that isn't designed to automatically deliver good service.
To give this whole idea a bit more color, I wanted to share a few examples with you:
#1  You Want to Cut Over to New Service on Friday Night
A lot of customers want to start their new service cut-over at the end of the day on Friday. That gives them the weekend to address any issues before everyone returns to work on Monday. However, we at Barry know the big problem with this timing: the implementation team that you're working with are in a rush to get home on Friday night. They may rush your cut-over, which can create problems. When you call to get service to address the problems, now you're working with a weekend crew who don't know anything about your project.
Advocate Tip: Schedule a cut-over on a Thursday. That gives us time on Friday to clean things up if needed.
#2 The Hidden Costs in a Multi-Location Network Delivery
Let's say your business has five locations, and you're setting up a multi-location network.
When you're installing fiber in five locations, there's construction involved. The carriers will deliver each circuit as soon as its ready – any they'll start billing you as soon as they're delivered. Except you can't start using any individual circuit until the entire network is up and running. That could cost you thousands of dollars for circuits you can't use, meanwhile you're still paying for your old network.
Advocate Tip: Require the carrier to delay delivery until all of the circuits are ready.
#3 Skip the Customer Service Hoops
Have you ever called a customer service number, only to be run through the most basic questions as a standard formality? Because you're an end user, the technician assumes you know nothing about the product or technology and starts out by asking something so utterly basic, like whether you've plugged it in. *eye roll *
And after you answer the questions and wait on hold a few times, carriers will often say "everything on our end looks fine, the problem must be your internal equipment."
Right.
Advocate Tip: What you need is someone who can cut through all of that standardized initial customer service activity. Someone who speaks the technical jargon, and knows when to push for shorter, faster, less costly resolutions.
#4 The Right Provider for You, at the Best Price
Every service provider has strengths and weaknesses. But you don't have the time to research all of them to understand which one is best for your specific needs. We already know all of the carriers, inside and out, and can advise you on the best fit for your needs.
We have wholesale agreements with some providers, which creates more competitive pricing for customers, and with other providers we negotiate and customize services to get you the best fit at the best price. The end result is that a customer will never pay more going through us than if they had gone direct to the provider.
Advocate Tip: Independent sales agents may help customers get a better deal, but they don't have the technical knowledge to provide an end-to-end relationship that will help you manage ongoing service issues. Look for a true partner who can support your business through the lifetime of your service.
The Benefits of Continuous Support
When you work with an advocate like Barry, you get ongoing expert guidance and resources from presale to sale to implementation to ongoing technical service. Whether you need help with coordinating carrier services, managing phone or data, or working with your firewall, router, etc. (even if we didn't provide it) – we have the technical experience to support every aspect of your phone and data needs. We're your partner, and your first call.
Learn more about how Barry can help with your voice and data network.
Save